I've been trying out book bullet journaling as a way to track my thoughts and do "mini reviews" of books, and I'm liking it so far. I love the concept of bullet journaling with regard to scheduling/planning, but I tried it a few years ago and it doesn't work very well for me and how I like to organize. But the book review journaling is working out great. Also a nice way for me to feed my new washi tape obsession.
This is just a quick recap of a few of the books I've read this year that have stood out for me.
Being Mortal: Medicine and What Matters in the End, by Atul Gawande
October 2014, Metropolitan Books
Reading Challenges: Book Riot- A book on social science. Badass Reading Challenge (BRC)- A book about a problem facing society today
It's never too early to start thinking about end of life care. While the book does focus on the ageing side of mortality, there are also examples of terminal illness affecting "young" people, and the questions raised apply to everyone. It is sad, but ultimately, I think a hopeful book. Forewarned is forearmed. However, it also perpetuates the notion that disability is awful. There are several quotes from people in the book where they refer to using a mobility aid as feeling like failure. They would rather try to walk and risk a bone-breaking fall than use a wheelchair or a cane. And, I get it, sort of, as someone who acquired disability rather than being born disabled. Losing your ability is rough, and we all deal with it in our own way and at different speeds. But, I was disappointed that the book didn't look at how mobility aids provide independence. And no, being disabled is not a fate worse than death.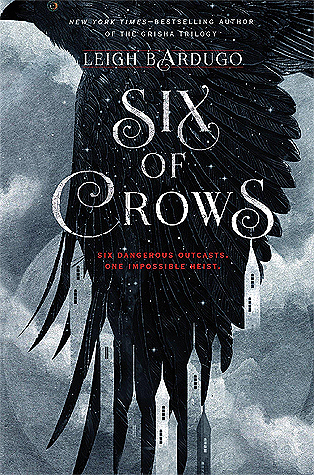 Six of Crows, by Leigh Bardugo
September 2015, Henry Holt and Company
Reading Challenge: BRC- book about or has a character with a mental illness
This was my first introduction to Bardugo's work, and before I'd even finished Six I ran out and bought the sequel (Crooked Kingdom), and the first in her Grishaverse trilogy (Shadow and Bone) which takes place before Six. So, yea, I enjoyed it a lot. Great worldbuilding, fast-paced heist plot, and I loved all of the characters. Also, a YA novel with romances that didn't annoy me! No love triangles, no being crap to your friends to spend time with the love interest you barely know. The relationships were all interesting for me and I liked that they were all at different stages—new love, relationship long-time in the making, tumultuous, etc. I don't have PTSD, but thought it was portrayed well and respectfully. Kaz's cane usage…didn't read as realistically for me, a former cane-user, but this is a good place to point out that disability isn't a monolith. It didn't stop me from enjoying this book. And, for audiobook types, the husbeast listened to this and also enjoyed it a lot. He had his misgivings going in since there are a lot of narrators (6 or 7), and that's not usually his jam, but he thought it was handled well and has already listened to (and liked) Crooked Kingdom.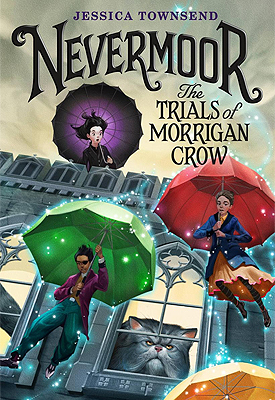 Nevermoor: The Trials of Morrigan Crow, by Jessica Townsend
October 2017, Little, Brown Books for Young Readers
Reading Challenge: BRC- a book recommended by someone else in the challenge
This book is adorable. I loved the magical world, though I hope wunder is explored/explained more in the next book, because yes, there is a sequel supposedly coming out this fall and I can't wait. I hate to call any book the "next" anything, but I think this series would be a nice successor to Harry Potter. It's the HP for this generation of sixth graders, and beyond. There are a lot of similarities, but Nevermoor is still its own thing. I liked the characters a lot. Found Morrigan likeable and brave yet sensitive. I sympathized with her right away as she's got to put up with some kind of heavy stuff for a middle grade book with regard to her crappy family. I'm always up for a platonic m/f friendship and got that with Morrigan and Hawthorne. But, I was disappointed that there wasn't a positive same-age female friendship, though by the end there looks to be the start of one. Still, there's a lot of mean girl-type rivalry going on and no same-age girls genuinely being friends.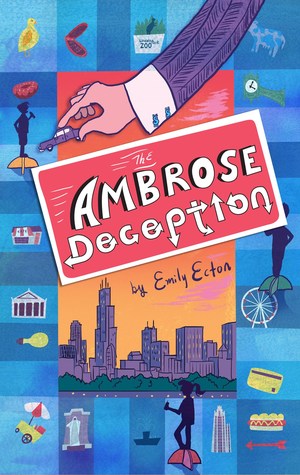 The Ambrose Deception, by Emily Ecton
February 2018, Disney-Hyperion
This one isn't part of either of the reading challenges, though in hindsight I'm realizing it would count for the BRC challenge under "a book published in 2018," but I'm probably going to use The Belles by Dhonielle Clayton for that one. I've been upping my middle grade game this year and loving it. This is a clue-based mystery, and I was a little worried about how that would play out on the page. I think it worked quite well. The three main kids are all interesting and distinct from one another. I also loved the side character drivers who are assigned to each kid—they bring a level of "adult" humor to balance with the kid humor. I usually don't like contemporary books set in a big city (*cough cough* anything set in NYC) because they tend to read like love letters to the city, and I usually haven't been there and feel like I'm missing context for the book. This book takes place in Chicago, which I've never been to, and while there are some things that read like they're Easter eggs for Chicagoans, I never felt like the location was keeping me at arm's length. I recommend reading either the print or ebook for this one as it had a nice production budget for multiple fonts and images that tie into the story.
A non-reading challenge…goal, that I set for myself is to get through as much of the Nebula and Hugo nomination lists as I can. I'm nearly there with the novellas (JY Yang's Black Tides of Heaven and Martha Wells's All Systems Red are looking like my picks, but I still have a couple left between the lists to read), and midway through with novelettes. The short story categories are so strong for both lists. My heart is with Caroline M. Yoachim's Carnival Nine, but all of the stories Are. So. Good. Not sure how many of the novels I'll get through. And, what am I currently reading? Evicted: Poverty and Profit in the American City, by Matthew Desmond, because apparently, I'm good at saying "I must read X" and then promptly not reading it. I'm going to need something light and happy after this book though.