I'm not a professional book reviewer so these reviews may be random or digress.  I'll point out what I liked, what I didn't, perhaps ways I thought things should've gone or could've been improved.  Star ratings aren't really my thing so I'll probably "grade" more along the lines of if I'd recommend the book or not.  I make no promises about being completely objective, but I will not be mean for funsies.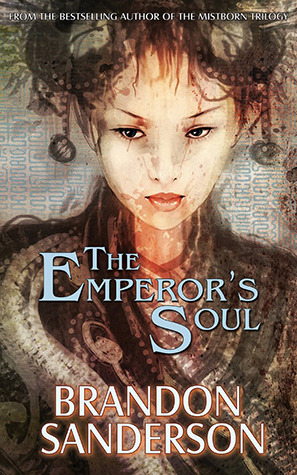 The Emperor's Soul, by Brandon Sanderson.
Pub. 10/10/2012, 176 pages, by Tachyon Publications.  Hugo Award winner- Best Novella
I had the kindle format for this book and don't recall any formatting boo-boos.  Refreshing, because I've read a few books that obviously weren't formatted correctly (or checked over) for the kindle.
Emperor's Soul takes place in the same world as Elantris, but the novella is a stand alone and you won't be missing anything by not having read Elantris first.  Really, the only way they're linked is through the mentioning of ethnicity and locales encountered in Elantris. 
This story follows Shai, a thief and skilled Forger–someone who can change the history of an object using soul stamps–who has been captured during a botched attempt to steal one of the empire's relics.  She's facing execution, but is given the seemingly impossible task of Forging a new soul for the brain-dead emperor in 100 days in exchange for her freedom.
This is a nice and quick read.  Plenty of worldbuilding for a short work, and the magic system is well thought out.  The description of the world and magic isn't always delivered fluidly, as there are some long passages where it's just Shai explaining how Forgery works via dialogue to someone else.  But the detail and way Shai goes about her Forging is interesting and described well.  I did think Shai was a bit too "perfect" because there are times in the story where she's able to figure things out with no explanation, but unable to know similar things later on.
The antagonists are a bit one-dimensional, with the exception of Gaotona and the Emperor himself, but given the short page count it makes sense.  Otherwise, Shai has no trouble dealing with the other arbiters and their minions because they fit perfectly into her presumed mold.  It was all a little too neat for me, but Shai's real conflicts were of a more personal/philosophical nature.
The only glaring issue that stood out to me was the complete lack of attention or explanation for the Imperial Fool.  This is the guy who supposedly turned on Shai and escaped while she got caught during the switheroo they were trying to pull with the scepter relic.  If he's the "Imperial" fool, then I'd think the arbiters would be at least a bit concerned about his role in the attempted burgling of the empire's treasures.  I understand the story is left open for Shai to go on and hunt him down if she pleases, but it's a bit too unbelievable that his betrayal of the empire wasn't seen as more of a problem.  I also thought she'd try to throw him under the bus upon her capture, but apparently not.
The pace is good and moves right along.  Never felt like there was a dull moment, which is good considering this novella clocks in at less than 200 pages.  The story progresses out by the day as it counts to 100 and Shai's deadline, which fits well for the base plot of her needing to Forge the Emperor's soul and escape.  There's not much of a surprise to the ending, but I thought it fit well with the tone of the story.
Recommended, and I'd love to see Sanderson return to this world and flesh it out more.